This is the Scriba archive at Cornell College. Scriba is software to accompany the Oxford Latin Course, Part 1 by John Gruber-Miller.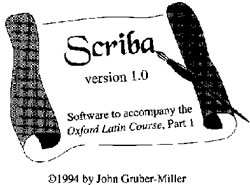 Click here to download Scriba 1.0: scriba10.zip
Notes
Scriba is free. Please register your copy of Scriba by sending an email message to scriba@cornellcollege.edu. Please include the following:

Name
Institution
US mail address
Email
Daytime phone number.
Questions? Send email to jgruber-miller@cornellcollege.edu