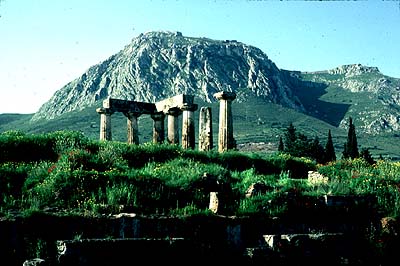 Temple of Apollo, Corinth
Class Hours during Week 1: M-Th 9-11:15 a.m.; afternoons for films and modern Greek: 1-2:15 p.m.
Office Hours: 11-12 M W and by appointment
Required Texts
Christopher Mee and Antony Spawforth. Greece. Oxford Archaeological Guides (Oxford 2001).

photocopies of maps, sites, plans, reconstructions, and articles
Recommended Texts
Goals
To better understand the task of the archaeologist,
To learn how to "read" the material remains of the ancient Greek world,
To trace the development of Greek culture from the Bronze Age through the Turkokratia by understanding the significant features of the major periods in Greek civilization
To understand how the material remains helps us understand the social, political, and cultural practices and perspectives of those living in Greece from 2000 BCE - 1821 CE when Greece fought for independence
To see how memory shapes our understanding of the past.
To develop research skills, becoming familiar with the most important published resources on Greek archaeology and how to understand the components of research in archaeology.
To develop oral presentation skills
To experience being "other" in a country different than our own, by coping with and reflecting on the experience.
By the end of the course, each participant should have a greater understanding of the culture, society, politics, and religious customs of the Greeks from the years 1700 B.C.E. to the present.
Requirements
Each participant will prepare one site report. A list of topics can be found here. Each report should be accompanied with a site plan, chronology, bibliography and a summary of the important features of the site or topic to be given to the members of the class on site. See the handout on Oral and Written Reports for further details. A draft of written portion of the report will be due the first Monday at noon. The final copy is due Friday morning. You are responsible for making copies for each paerson on the trip. The oral portion will be given on site.
You will also keep a daily journal while we are in Greece. In it you can record your observations, comments, and reflections on the events of the day. It is not meant to be a diary (i.e. what happened), but an exploration of your reflections on your experiences (how or why it happened). You should of course comment on the archaeological record and how it helps you understand the ancient Greek world. The best journal entries pose questions, explore problems, and make connections between monuments from different sites and between the ancient world and later periods. What patterns, themes, parallels (and differences) do you see? How do memory, cultural attitudes and values affect those who build, rebuild, tear down, and/or preserve these monuments? How does location (within a site or landscape) and geology/topography play a role in giving meaning to a site or monument? In addition, you may reflect on how the Greeks have influenced later periods, and on your own interaction with modern Greek culture. In other words, you should comment not only on the archaeological portion of the trip, but also reflect on the "whole" experience.
The final exam will include a mixture of map identifications, short answers on specific monuments or terms (a paragraph or two), and more general essays that explore larger issues.
Grading
punctuality, cooperation, preparation and participation in class and at each site 10%
written portion of site report 10%
quiz on chronology, terms, forum, etc. 10%
oral portion of the site report 20%
final exam 30%
journal while on trip 20%
Let's get dirty! Start digging!
Photo credit: John Gruber-Miller © 2003