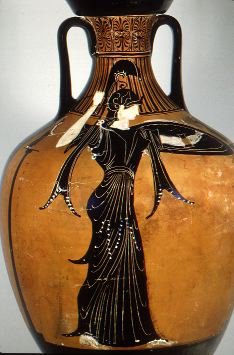 Please prepare the reading assignments in anticipation of class discussion.
PART I: Overview of Greek archaeology, art and architecture
Week 1
Monday: Introduction; the Interaction of Humans and the Environment in Greece
Tuesday: Bronze Age Greece
Neolithic and Bronze Age Greece

ancient trades and crafts

The Archaeologist's task: pottery shapes and fabrics, typology and chronology

PM: video "Pandora's Box: The Roles of Women in Ancient Greece" (Ellen Reeder) or "The Age of Heroes", from Michael Wood's In Search of the Trojan War

Reading: Sparkes, Chs 3 and 11 (on Moodle); Nick Cahill, The First Greeks:

Minoan Art

and

Mycenean Art

; Bruce Hartzler,

slides

of Minoan and Mycenean art;
Wednesday: The Rise of the Polis
Archaic and Classical Greece

civic/public life: tha agora, gymnasium, assembly, theater

The archaeologist's task: stratigraphy

geological formation of Greece
plate tectonics
PM: lab (Norton 303/308): rocks common in Greece

Reading: Mee and Spawforth, pp. 1-8, 10-12, 25-28, 34-36 (on reserve); Sparkes, Chs 4 and 7 (on Moodle); Kevin Greene, "

Excavation

"
Thursday: Greek Kings and Roman Emperors
Hellenistic and Roman Greece

Greek religion
the archaeologist's task: architecture

PM: video: "Secrets of the Parthenon" (NOVA)

Reading: Mee and Spawforth, pp. 13-17, 28-34; Sparkes, Ch 5; Mikalson, Ch 1; K. Greene, "

Dating the Past

".
Part II: Trip to Greece
Friday: Travel Day
Sunday: The Athenian Acropolis, The Athenian Agora
Propylaia, Parthenon, Erechtheum,

Reading: Mee and Spawforth 46-65
The Athenian Agora through the centuries; the Roman Agora
Reading: Mee and Spawforth 65-76, 79-84; 36-42