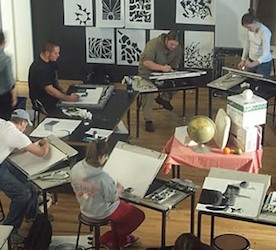 Curriculum
Cornell offers majors in both studio art and art history. For the studio major, areas of focus include ceramics, photography, video, drawing, painting, textiles, sculpture, performance art, papermaking, and collage and assemblage. For students emphasizing art history, there are multiple course area offerings from Western antiquity to the present available, as well as Native American, Latin American, and African art.
Art on the block plan
A recent alumni said it seems Cornell's One Course At A Time schedule "was made for the art department." He's right: the block plan gives us the ability to treat every studio course like a workshop, with focused periods of work, fewer interruptions, and less time devoted to set up and clean up.
The block plan also gives us the opportunity to take frequent trips to galleries and museums at other schools, neighboring cities, and as far away as Minneapolis and Chicago. We frequently offer block-long courses to study art history in Italy, and our students have the flexibility to include internships in a wide range of fields as part of their studies.
Senior theses
An art history thesis normally requires a paper, public presentation, and oral presentation to complete the major. A studio thesis involves a public exhibition, an oral defense, and the creation of an electronic portfolio. Our emphasis on a senior thesis requirement is unusual for a college of our size. Our aim is to establish in our majors the qualities of a committed artist or art historian after leaving Cornell, whether continuing their work in their own studios, as teachers inspiring others to make art, entering a graduate program, managing an antique store, becoming a museum docent, or using art as part of their daily lives in a career outside the art world.
Curriculum details