2021-2022 Off-Campus Courses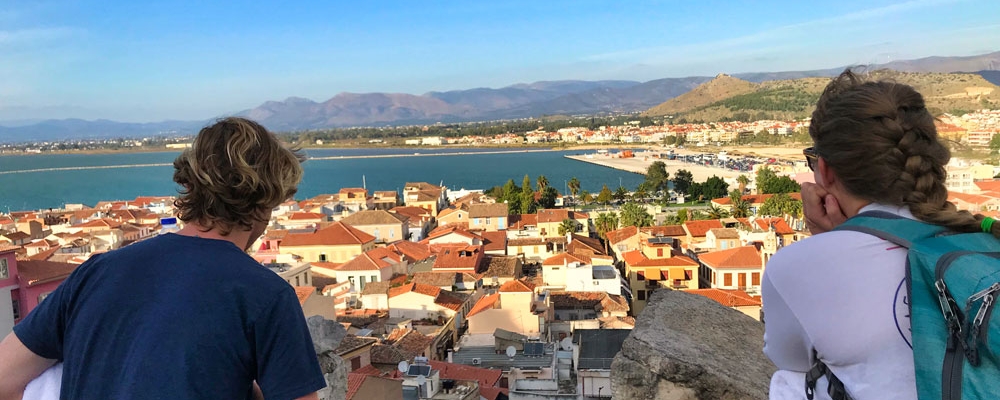 Cornell's One Course At A Time schedule provides ample opportunities to study for a block off-campus. You may either choose to travel domestically or internationally.
2021-2022 note for students - we anticipate some countries will expect to see verification of a COVID-19 vaccination to travel, so students are encouraged to maintain a record of your vaccination in case that is required for the country.
Can you see yourself studying here?
Block 1
Wilderness and the Arts—ENG 347
The class will immerse in the glorious September outdoors at the fairly primitive Field Station on Low Lake, and thoughtfully consider concepts of the wilderness in our culture as we incorporate art and meditation into those conceptual frames. We canoe, make art, write wilderness journals, read and discuss literature, contemplate paintings (the vibrant forest paintings and journals of Emily Carr), and photography by Tokihiro Sato, Jim Brandenberg and others). We cultivate awareness of our own encounters with the wilderness and the artworks about the wilderness that we study. The class will learn to do Japanese suminigashi, floating ink marbling, and make journals using Japanese stab binding. We will reflect upon art and meditation as ways of relating to the wilderness; we will read fiction and poetry in the wild, keep journals/portfolios of projects involving writing, literature, meditation, and photography (projects inspired by Sato and Brandenberg).
Open to seasoned campers & neophytes.
Tentative course fee (includes transportation, lodging, activities, and meals): $870
Topics: Anthropology of the Environment at the Wilderness Field Station—ANT 256
This course takes place in Minnesota at the Wilderness Field Station located on Low Lake in the Superior National Forest, adjacent to the Boundary Waters Canoe Area (BWCA). The BWCA is a unique, extensive chain of nationally protected freshwater lakes in which motorized vehicles are prohibited and development is restricted. Conflicts over land use, however, have been a part of this region since before its designation as the BWCA, and restrictions are continually contested. Whether sulfide mining should be permitted, where motorized vehicles should be allowed, and how wolf hunting ought to be regulated, are all examples of ongoing debates. Through the lens of environmental anthropology, our course will examine the cultural politics of land use and human-environment interactions. If we hope to solve immanent environmental dilemmas, we must consider the socio-cultural context through which these dilemmas take shape. Our course will consider persistent debates over environmental meanings, regulative authority, and environmental political action in the Boundary Waters and beyond.
Activities include canoeing, hiking, possible camping expeditions, meeting with local activists and organizations, visiting museums and heritage centers, and generally engaging in a variety of immersive events in order to better understand the environmental and socio-cultural conflicts and triumphs associated with the region.

Tentative course fee (includes transportation, lodging, activities, and meals): $870
Block 2
Holocaust and Human Rights in Europe—POL 244
This course addresses the history, politics, and lived experience of the Holocaust and other significant human rights abuse in Europe, from the points of view of victims, perpetrators, and bystanders. We will work to understand why and how human rights come to be abused, how abuse affects the victims, and when and how post-conflict communities work to resolve differences and learn from periods of abuse. We will visit Holocaust and other human rights sites – museums, memorials, and sites of violence – in and near European cities such as Berlin, Prague, Krakow, and Sarajevo.
This course will involve significant walking and use of stairs, sometimes with our luggage. 
Tentative course fee: $4200
Block 4
Topics in Kinesiology: Movement Across Cultures—KIN 255
This course provides an immersive investigation into movement in the life and culture of the Bahamas. We will explore the intersections of various aspects of physical activity (exercise, sports, physical education, cultural expression) with Bahamian history, culture, education, wellness, tourism, and the environment. Specific research topics may include environmental impacts of movement-based tourism, education of movement within and outside of the Bahamas school system, the meaning and quantification of movement during Junkanoo, the impacts of sports tourism, and a comparison of the history of movement between the indigenous Lucayan tribes, colonial and loyalist plantations, and present day communities. A significant portion of the course (two weeks) will be conducted in Nassau and at the Gerace Research Centre on the island of San Salvador, Bahamas.
Field activities will include hiking, snorkeling, swimming, exploring historic sites, spelunking, community engagement with local residents and practitioners, and experiencing the local culture. 
Prerequisites: KIN 328 or Permission of Instructor
Tentative course fee: $3,300
Block 5
History, Traditions, and Identities in Aix-en-Provence—FRE 206/302
In order to explore questions of history, identity, and tradition, students will be immersed in Provençal culture for the duration of the block. This extended stay in southern France will provide them with the opportunity to gain an understanding of life in Aix-en-Provence and achieve greater fluency in French by living with local families and interacting daily with native speakers from the community. They will be able to discover local traditions through experiential activities, perhaps a cheese tasting, a market visit, and/or a cooking class. Excursions may include day trips to Marseille or Avignon, or shorter site visits to a World War Two transit camp or the painter Cezanne's workshop. These outings will instruct students about area history, culture, and identity; guest lectures will further augment students' knowledge of the course's themes. In addition to such experiences, there will be group discussions and selected readings designed to examine the inter-relations of history, tradition, and identity in this small city and its surrounding region.
Please note this course entails significant amounts of walking. 

Tentative course fee: $4,200
Modern/Ancient Carbonate Systems—GEO 255
This field course explores the geologic and biologic processes occurring in a modern carbonate depositional system—the Bahamas archipelago—as well as the history of life and environments on the archipelago, as documented in limestones dating back to the Pleistocene age (2.5 million to 11,700 years ago). This course operates out the Gerace Research Centre (GRC) on San Salvador Island, where students participate in field trips to investigate modern coastal and shallow marine environments (coral reefs, tidal flats, lagoons, beaches, and dunes) as well as ancient analogs represented by rock outcrops, caves, and sink-holes. Field trips are accompanied by readings, lectures, and laboratory work. Through these activities, students learn to distinguish modern marine environments; create maps and profiles of them; analyze sediment samples; classify various forms of marine life; log geologic sections of rock outcrop; and reconstruct ancient depositional environments through study of sediment, sedimentary structures, and fossils.
This course will entail significant walking and hiking as well as work in water and caves. Snorkeling experience is desirable but not essential; scuba diving opportunities will be available to certified divers. 
Tentative course fee (includes transportation, lodging, activities, and meals): $2800
Block 6
Biological Problems - BIO/BMB 485
Professor Tepper and Professor Christie-Pope
This is a capstone course involving both students and faculty in collaborative research. Students participate in a multifaceted on-going research project focused on how climate change affects coral reefs. Fire coral and their algal symbionts are used as a model system to explore responses to thermal stress and coral bleaching. The course takes place on South Water Caye, a 12-acre Caribbean island surrounded by mangroves, tidal seagrass flats, and pristine coral reefs teeming with marine life located on the Belize barrier reef.
Daily activities include laboratory research and snorkeling coral reefs. 
Tentative course fee (includes transportation, lodging, activities, and meals): $3300
If this course is unable to travel to Belize due to COVID-19 restrictions, the class will be offered in the Bahamas. This decision will likely be finalized by Summer 2021; questions related to this course may be direct to Craig Tepper
Block 7
Gender and Development in India—POL 331
This is a comparative politics course on gender and development issues among rural and urban Indian women. The course is also cross listed with GSS. Broadly speaking, course goals include analyzing various issues that affect women such as social, cultural, health, economic, and political issues. As such, it is fairly interdisciplinary and appeals to students from a variety of disciplines. We will spend the block in India, in both urban and rural settings.
The course involves a moderate amount of walking. 
Tentative course fee (includes transportation, lodging, and meals): $4200
Gods, Emperors, and Philosophers—CLA 274/REL 267
Professor Gruber-Miller and Professor Hoklotubbe
Gods, Emperors, and Philosophers invites students to trek across Greece and Western Turkey to explore and contemplate both the material and textual remains that inform our knowledge of the ancient Mediterranean world from the Trojan War to the Ottoman empire. This course will visit archaeological sites and modern cities which hold considerable significance for our understanding of ancient Mediterranean religions, imperial politics, ancient and medieval societies, and philosophy, including Thessaloniki, Istanbul, Pergamon, Hierapolis, Aphrodisias, Ephesus, Athens, Corinth, and Delphi. This course will give special attention to how both material remains, inscriptions, and ancient texts illuminate our understanding of how ancient and early modern Mediterranean peoples imagined, constructed, and communicated both divine and imperial power. Students will explore how different ethnic and religious communities have responded to discord or imperial rule; discover how (and why) rulers take on divine qualities; contemplate how different communities define justice; reflect on how people have responded to the fear of death. Readings will include selections from Plato's dialogues, Paul's letters, Josephus' history of Jewish experiences under Rome, and the Qur'an. Students will explore ancient cities, palaces, markets, theaters, sanctuaries, basilicas, synagogues, mosques, and museums. Throughout both Greece and Turkey, students will be led by their professors and tour guides across archaeological sites and cities and even be given the opportunity to give a mini-tour themselves. 
This course will entail significant walking and hiking. 
Tentative course fee: $4,600
Costume Design - THE 305
Exploration of the role of the costume designer in the design and production process. Building upon skills learned in THE 108 and through script and character analysis, students begin to develop the visual design of clothing for a play using line, color, silhouette, texture, etc. Project work focuses on developing research and rendering skills, as well as budgeting and allocation of costume technology assets.
Tentative course fee: $580
Financial Management Seminar - ECB 352
This course provides an introduction to the dynamic world of derivatives. We mainly focus on options and futures and will learn about the characteristics of the markets and institutions where these instruments trade, pricing models (e.g. the binomial model and Black-Scholes-Merton model), trading strategies (e.g. covered calls, protective puts, and spreads), forwards vs. futures, and the application of derivatives for financial risk management.
Prerequisites: ECB 151, and ECB 210, 225, or 243.
Tentative course fee: $350
Block 8
Investigating German Pasts and Presents—GER 270
This block abroad, led by Prof. Dr. Tyler Carrington, is your passport to the pasts and presents of three dynamic cities in the German-speaking world. Starting in Vienna, Austria, moving through the Alps to Munich, Germany, and ending in the cosmopolitan German capital of Berlin, this course will explore the cultural, linguistic, social, political, and environmental foundations of Germany and Austria. In each city, we will focus on a particularly fascinating historical context and also measure its significance and relevance in the present. Students will engage hands-on with cities, buildings, artifacts, and archival materials, and they will dive headlong into the visual, culinary, and sensory treats of these magnificent cities. There will be museum visits, of course, but our days will be filled primarily with engaging and personalized tours of places like the Audi factory floor, the Berlin city mission (soup kitchen and homeless shelter), backstage at the Vienna opera, ice skating at Munich's (1972) Olympic Park, and much more. This course will become the touchstone of a life-long fascination with German-speaking Europe and equip students with a wealth of perspectives and experiences that will open up untold doors for their lives and careers.
This course does entail a good bit of walking and, for interested students, mild hiking and other outdoor activities as available by location and weather. 
Tentative course fee (includes transportation, lodging, and activities): $3,600
Students will be responsible for paying for their own meals during this course.