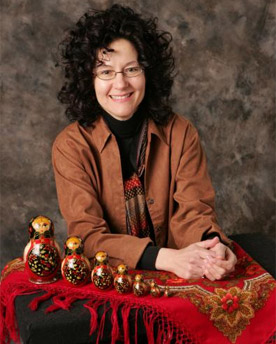 Why Study Russian at Cornell?
Why study Russian?
Russian, one of the six official languages of the United Nations, is spoken by over 150 million people in the world today. The relationship between the U.S. and Russia has changed much since the end of the Cold War but remains complex. Today there exists a wide range of interactions between Russia and the U.S. in the areas of government, education, business, and social services, all of which provide those who know Russian opportunities for study and employment.
In the last few years Russia has reasserted its standing as an important player in world politics. Until the recent worldwide economic decline, the country witnessed rapid growth, largely thanks to its prominence as an exporter of energy. Most observers expect this surge to resume in the near future and regard Russia as a country that will play an increasing role in the global economy. The choice of Sochi, a prominent resort on the Black Sea, as the site of the 2014 Winter Olympics attests to Russia's importance.
Students at Cornell College study Russian for a variety of reasons. Some have read works of literature in translation by writers such as Dostoevsky, Tolstoy, or Solzhenitsyn, and want to learn the language of these literary giants. Others possess a keen interest in Russian history or politics. Many have met visitors or immigrants from Russia and those interactions have fueled a desire to learn the language.
A number of our graduates have gone on to study or work in Russia after Cornell, and many continue to use their language skills and/or intercultural skills in productive ways. We have profiled several recent alumni on our site to illustrate the possibilities for study at Cornell and for future employment.
Russian on the Block Plan
Most students who study Russian at Cornell College start from scratch with RUS 101, which is generally offered in February each year. By the end of the first week of the block students know the alphabet and are able to make simple statements and conduct very basic conversations. The focus in the first several courses is on practical vocabulary so that students can handle everyday situations, such as talking about self, family, interests, and daily activities.
Language study on the block plan enables students to focus on developing their skills without distractions from other courses. Students can complete the language requirement in just four blocks at Cornell. Our multi-faceted language lab (equipped with CAN8 Technology), videos, CD-ROMS and the internet are used in language classes to facilitate the acquisition of all four language skills (listening, speaking, reading and writing), while at the same time presenting language within its social context.