New Members
Initiation Ceremony, April 16, 2011
Congratulations 2011 initiates!
Back Row, Left to Right: Willi Mendelsohn, Monica Brown, George Ellerbach, Taylor Koch, Elizabeth Davis, Ellie Hutchinson, Xinrui Zeng, Katie Carty
Middle Row, Left to Right: Chelsea Korpanty, Megan Dibbern, Elizabeth Erickson, Sophie Gaynor, Allie Jagielo, Amanda Johnson, Aye Mon
Front Row, Left to Right: Sean McKenna, Caitlyn Dye, Joe Harrity, Zoe Sigman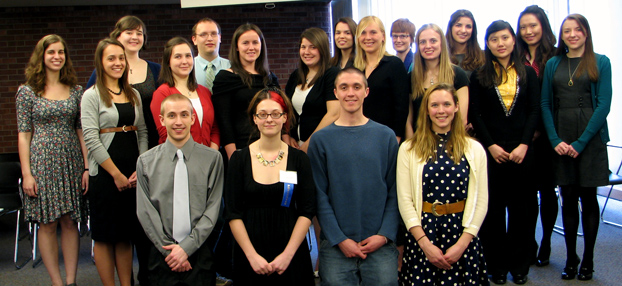 The Ceremony of Initiation: in conjunction with the Annual Student Symposium:
Saturday, April 16, 2011, at 3 p.m. in Harlan Dining Room, The Commons.
PBK Commencement Reception: Saturday, May 28, 2011, in the Cole Library.