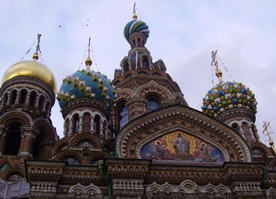 Cornell's One Course At A Time calendar creates opportunities for many month-long off-campus courses such as Russia Today with Fulbright scholar Robert Givens, professor of history. Above: St. Petersburg's Church on Spilled Blood.  Below: Students visit Pushkin's Catherine Palace.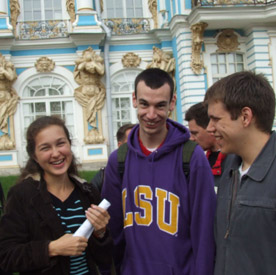 International Relations at Cornell
We need only turn to the day's news to see how closely our lives are connected to developments throughout the world. The International Relations major offers Cornell students an interdisciplinary approach to this significant field.

By combining courses in history, politics, and economics and business with the study of a modern foreign language, students complement their theoretical knowledge with the tools for its practical application. Students are strongly urged to study outside the United States, and have many options.
Cornell's One Course At A Time calendar enables students to participate in a wide-range of block-long courses abroad, or to engage in longer programs through external programs, such as peace and conflict studies in Ireland, the Middle East, or Switzerland. International internships and fellowships are also supported by the Berry Center for Economics, Business, and Public Policy and by the Cornell Fellows Program, respectively.

Past International Relations graduates have pursued careers in business and government service. Others pursue graduate studies in law, international relations, history, and politics. Since the inception of the program in 1983, several graduates have been appointed officers of the US Foreign Service.