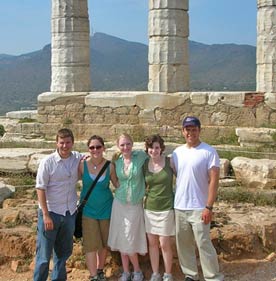 Cornell courses travel to Greece and Italy in alternate years. Students from the course Greek Archaeology, co-led by professors John Gruber-Miller (classical studies) and Emily Walsh (geology), are shown in front of the Temple of Poseidon.
Curriculum
Classics Courses for 2014-15:
Roman History, Classical Mythology, Epic Tradition: Classical and Modern Odysseys
Greek & Latin Courses for 2014-15:
Beginning Latin I-II-III, Introduction to Roman Literature and Culture, The Greek Hero, The Age of Augustus
Curriculum Overview
The Classical Studies curriculum emphasizes an integrated approach to the ancient Mediterranean and its influence on the world around us.  In nearly every course, students examine a particular text or topic from a variety of perspectives in order to develop a multi-faceted understanding of Greek and Roman culture.  In fact, Classical Studies is the first interdisciplinary major at Cornell College, established as the first course of study for students in 1853.  Classical Studies take advantage of the methods and insights of language and linguistics, literary studies, archaeology, art, anthropology, history, philosophy, and religion.

To understand other cultures such as the Greeks and Romans, it is crucial to understand them on their own terms, in their own words and in their own languages.  And so every Classical Studies major or minor develops proficiency in Latin and/or Greek through the 300-level.  The second component of a Classical Studies major or minor are courses that survey the rich literature of Greece and Rome by examining a particular topic or genre, such as love and sexuality in Greece and Rome or Greek and Roman Theater.  Finally, the third component of the major and minor are courses that explore topics through the lens of other disciplines, in courses such as Greek Archaeology, The City of Rome, Greek Art, Ancient Philosophy, the Gospels or Letters of Paul, or Women in Antiquity.
Off-campus Study
Every other year, the classical studies program sponsors an off-campus course in either Greece or Rome. For more information about these courses, please visit our off-campus study page.
Curriculum Details