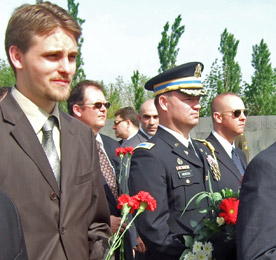 Nic Wondra performed various diplomatic roles during his Cornell Fellowship in Armenia with the U.S. State Department, including attendance at the National Genocide Memorial Day (above) and meeting with a hunger striker protesting the Armenian government (below).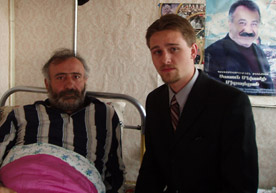 Nic Wondra '09
Nic Wondra '09, a Russian and international studies major, has received a Fulbright Award for 2009-2010 to study the educational system of the Republic of Georgia. Wondra will perform a side-by-side study analyzing two Georgian high schools in order to determine effective reforms for urban and rural schools. He will also examine the role foreign aid plays in these schools.
Wondra's Fulbright application was aided by his experiences abroad as an undergraduate. In particular, he completed a three-month Cornell Fellowship in Armenia, where he worked for the U.S. State Department during a period of intense political unrest.
While in Armenia, he drafted official communication briefs to Washington on topics such as human rights, economics, judicial proceedings, and local projects. He also participated in fact-finding missions during the protests and military crackdowns that gained worldwide attention in the days following the incarceration of an Armenian parliamentary official. Wondra visited with protesters, a hunger-striker, and a police chief in a region north of Yerevan.
Wondra called his three-month internship "the most rewarding and edifying work experience I have ever had."
"Even the most grassroots developments were tied to the political situation," he says. "I observed the protests before the violence on March 1, when people were filled with hope. And then afterwards I reported on the violence, the death toll, the police reports, and political arrests."
Wondra had previously studied in Russia for a block during Russia Today then returned to study in St. Petersburg for a semester in the fall of his junior year. These experiences abroad have broadened Wondra's worldview and possibilities for the future. Following his Fulbright term, he plans to seek internationally-geared scholarships to research and teach abroad, as well as investigate doctoral programs in the field of international relations and global policy.