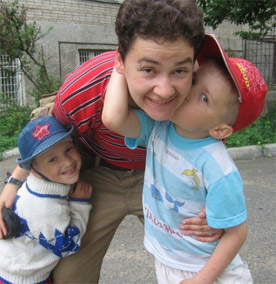 Laura Erceg '06 enjoys time with two of her favorite children during a Fulbright year in Vladivostok, Russia where she worked with a variety of at-risk youth. She is now a case worker for Russian-speaking youth in Portland, Ore.

Laura Erceg '06
Laura Erceg '06 earned a Fulbright award as a senior and spent 2006-07 in Vladivostok, Russia, working with at-risk youth for a variety of programs. As a student, she studied for a semester in Krasnodar, Russia through an Associated Colleges of the Midwest program.
What was your Fulbright experience like?
One of the best aspects of the Fulbright year was being given an entire year to live in Russia during which I didn't have to worry about money, and I could shape my own experience. There was no "director" who was organizing trips or classes; it was all up to you, and I loved that. I spent the most significant volunteer time at an Internat for children who are unable to live at home for various reasons, an orphanage for children with HIV, and an NGO established by a woman from New Zealand to serve Vladivostok's street kids.
What are you doing now?
I work for a wonderful anti-poverty agency which has been in the Portland (Ore.) community for over 40 years. I am a case worker for Slavic (or Russian-speaking) youth ages 6-17. I get to work with many different schools with Russian/Romanian/Ukrainian-speaking students to help improve their chances of graduating from high school.
Is there a large Russian population in Portland?
The Russian-speaking population around the Portland area is, ironically, originally mostly Ukrainian or Romanian. Many of the students I work with actually did not learn Russian until moving to the States. The majority of the population here immigrated to the U.S. as a result of religious persecution in their home countries. Families are predominantly Pentecostal or Seventh Day Adventists with very strict rules and religious norms. Needless to say, this is a slightly different population of Russian-speakers than I was accustomed to, but I enjoy the challenge.
What are some of the issues you deal with?
One of the largest barriers to success these students face is the simple need to adjust to an educational system that puts a lot of stress on personal responsibility. The difference in school cultures in Russia and Ukraine versus the U.S. can be very large, especially our rules and strict enforcement of truancy and weapons on campus. Accessing services for special education is another huge barrier some students face because in their culture such services are still viewed with a hostile eye -- no one wants their child labeled as an "invalid."
What do you enjoy most about your job?
The process by which I get to discover these students' strengths and advocate for them within the school. My average day is never the same. I might be entering data into the computer in the morning, by lunch I'm helping tease out a student's future career or life goals for a school project, and in the afternoon I'm coaching a family and student through their rights during an expulsion hearing.
What was your Cornell experience like?
I have to admit that I arrived my freshman year with a few trepidations, but by the time I left I couldn't have imagined myself anywhere else. The One Course At a Time system was excellent, and I sometimes wish I could return to it. What really made the experience worth it was my involvement in various student orgs and the amazing and challenging classes I was exposed to. My friends and I still talk about some of those classes while we cook up our plots for (peaceful) revolutions. Without a doubt, the individual attention students receive from teachers is simply amazing. When I speak about my college experience to friends who attended large state schools where having a mentoring relationship with your teacher was never an option, I realize how lucky I was.
How about studying Russian at Cornell?
The Russian program was fun to be a part of. First off, we were a small group of majors, and Lynne had undying patience for my slow learning of grammar! She was also always able to convince me by the end of a Russian literature class that the books I originally thought were boring are actually quite interesting.
Any future plans?
In the next couple of years I plan on applying to graduate school. The current game plan is to simultaneously enroll in graduate school and the Peace Corps as part of their masters program.