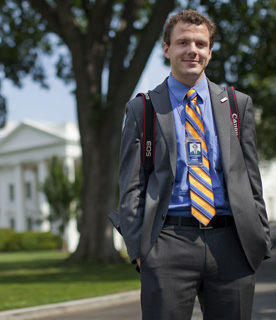 David Lienemann '05
David Lienemann '05 witnesses history daily as official photographer for Vice President Joe Biden. His job takes him from meetings in the West Wing to Iraq to state dinners around the globe. David majored in economics and business and took photos for the college as a work-study student, as well as for the Mount Vernon-Lisbon Sun.
What do you like most about your job?
I think what I like most about my job is the chance to witness history on a daily basis. Whether it's photographing the Vice President meeting with Cabinet secretaries, traveling to a middle class task force meeting at a bus factory in St. Cloud, Minnesota, a state dinner at La Moneda (the Chilean White House), or visiting troops in Iraq during a surprise Fourth of July visit, I'm always trying to find a new or unique photograph that helps tell the story of the role that Vice President Biden is playing in the administration and for the country. 
Any future plans/goals?
I wish I had enough time right now to make some, but our schedule is go go go, and any time we're not moving, I'm usually in the office trying to catch up on all the photos, or home doing laundry and sleeping.
What was best about studying at Cornell?
For me the best thing about studying at Cornell was the opportunity to focus on a specific subject for a block and really immerse myself in the information. Also, because of the liberal arts aspect of Cornell, I studied a wide variety of subjects, which has influenced my outlook on the world in addition to making it possible for me to jump from situation to situation, which my job requires.
Did the block plan work well for you?
OCAAT was a great experience for me. I know it sounds very clichéd, but it allowed me to focus and concentrate on one subject and one class rather than jumping from topic to topic throughout the day. Also it allowed me to take part in some campus activities and experiences that would have been difficult or impossible to participate in under a traditional semester schedule.
Did you complete any internships, off-campus courses, etc?
While at Cornell I completed two internships, one in Senator Tom Harkin's Cedar Rapids office, and one at the Cedar Rapids Gazette in the photography department during the 2004 Iowa Caucus. In addition, I studied at the ACM Wilderness Field Station in the Boundary Waters my sophomore year, and I studied in Malaga Spain for 2.5 months my senior year. All of these experiences helped to broaden my experience and understanding in a variety of different subjects.